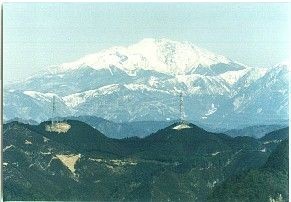 Mt. Ontake overlooked from Mt.Noko
● Welcome to our homepage.
● This is to introduce our hometown "Hichiso", peaceful small town in Gifu Prefecture.
Here, you can know various aspects of our hometown. We feature "SHISHIMAI" dancing lion, stone Buddha, wild flowers, and much more of our attractive scenery. Further, we introduce our volunteer activities.
You also will find interesting information on dams, such as amount of water storage.
Please don't miss our collection of useful sites as well.



[ 日本語 Japanese Page ]

You have been the



caller since June 15, '97.

 "Lounge" open: 29 Aug '97    02 May. '15  


  This is a chat room where all mails from visitors to our HP are collected. Please drop in.
  The subject of a lion dance is abundant at introduction.

           Bulletin board system   open: 04 Sep. '11


               Bulletin Board System page. Please try and enjoy.
 The Hida river valley  Meeting of city planning     open: 20 Jun. '12         04 Mar. '17   


  This is the volunteer organization which started activity for "Town of miniature garden in which Ryujin lives"
 city planning to the concept.

"Volunteer-Net Hichiso" open: 18 Oct. '98       31 Aug. '23 


  The network of the volunteer organization in Hichiso-cho has been made.
  Please get information on their activities.




"Lion dancing in Taira"open: 22 Jun '97    13 Apr. '08  


  Traditional entertainment's "Lion dancing in Taira"

"A stone statue of the Buddha in Taira" open: 21 Jun '98  


  A report of brilliant "33 Kannons in Taira"

"A bamboo charcoal in Taira"  open: 16 Oct. '01  update: 15 Mar. '04 


  A report of trimming the woods and a bamboo charcoal

Introduction of a hometown  open: 12 Apr '98   


  The corner to introduce our hometown Hichiso-cho. The content is becoming substantial little by little.

             Cherry Blossom (Gyoiko-sakura)   open: 12 Apr '98  update: 24 Apr. '02

             Mt. Noko         open: 30 Aug '98  update: 16 Apr '02  

             Big tree at Tenno-Yama  update: 28 May 

             Statue of the Zizou-Buddha open: 23 Nov  update: 19 Dec 

             Setsubun Flower       open: 24 Mar '99  27 Apr '04  

             Tea God       open: 12 Jun '99 

             A monument of old woman Seki open: 11 Dec '99  update: 22 Jan

             Cave where Enkuu lived       open: 22 Jan '00 

             10 Kings-Buddha in Hell       open: 12 Aug '01 

             Black lion dancing in Kabuchi   open: 22 Dec '02   



 News Flash: open: 18 Jul '97

   The latest amount of water storage in the dams on the Kiso river
            data: 15 Dec. 2023   15 Dec.  

        Iwaya-dam    Makio-dam    Agigawa-dam    Misogawa-dam


"The Hichiso-cho related sites" open: 8 Sep '98       23 Jun. '08  


  The collection of the sites where hometown Hichiso-cho was introduced

"The convenient sites"  open: 20 Feb '98      04 Apr. '16  


  Convenient sites to show you where to visit when you are free

"The Friends' sites"      open: 07 Jan '00      24 Sep. '08  

  Friends' sites linked mutually


---

The lion dancing sites

Sasara in Ishihara  Lion dancing in Unbin  Arajisi of Kamo   Takada-shrine's page

Lion dancing in Sengokuhara  Osaka Lion dancing Club  Chinese Lion dancing

The grand festival of Noma shrine   Lion dancing of Nonomiya shrine  Hasigo-sisi in Asakura

Lion dancing in Kushiki  Lion dancing in Oose  Lion dancing of Oomiya-Suwa shrine

Lion dancing in Nagano  Black lion dancing in Kabuchi  



Lion mask specialty store Arai  




Lion dancing in Inashiro  




  Kirin-sisi  




 kansaishishikyoubukai  Lion dancing in Utida    '20.05.05 






===========The search engines===========

・Click a right-hand side button after inputting a keyword!





For looking at this page

Netscape3.0 or more




Link Baner

This is a link freelance site.
I'm waiting for your mail.


It is required Sound-card and MIDI related plug-in

Music copyright
(Thank you for your kind permission!)

---
Copyright: Hichiso-cho, Gifu pref in Japan by mattsu3